Mom Shares Shocking Photo After C-Section Wound Burst Open.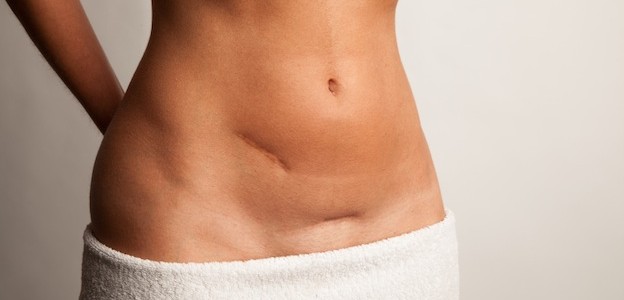 Five days after the birth of her first child, Mel Bremner was at home having a shower when she bent down to pick up some shampoo and her c-section wound burst open.
She said: "When I stood up I saw my intestines spilling out of my stomach. I called for my partner, who was still in bed, he got me out of the shower and sat me down and put my feet up. He was in the military so he's used to these sorts of things!"
Mel explained, "I didn't feel any pain at all, it was all quite bizarre! The paramedics arrived and filled me full of morphine, whisked me away to be airlifted to the nearest hospital which was 45 miles away. I was stitched back up and spent another 3 days in hospital."
"Through all of it the worst part was being separated from my baby for that length of time!!!! This was my first pregnancy and after about a year I was finally able to think about the possibility of having another."
The medical term for what happened to Mel is Wound Dehiscence – it is a surgical complication in which a wound ruptures along a surgical incision. After it happened, the consultant who performed the section told Mel that he either didn't tie the knot tight enough or he cut the tail of the thread too short.
However, Mel's experiences haven't deterred her from having more children. She revealed, "When I fell pregnant again I was offered a natural birth or a planned section, I opted for a planned section. They were extremely cautious through the whole second pregnancy, I was having scans every month.
"The section went well, healing went well and within 6 months I found myself pregnant again! I had no option this time but to have a section as it was so close to the previous pregnancy.
"After the sections I was overly cautious, not lifting anything, taking it easy etc. The most I did after the first was go for a short walk, which the midwives had encouraged to keep me active, so long as it wasn't strenuous!"
Channel Mum's resident Health Visitor commented on Mel's experience, saying it was a "devastating thing to happen" to her.
"I am glad to hear Mel has recovered well and gone on to have more children with no recurrence of the condition. Total rupture with the protrusion of internal organs called evisceration is less common. Doctors often close C-sections in multiple layers so if there is a rupture, it may just be partial, where just the surface layers are affected. But it can also be a complete rupture, as happened to this mum."
Maggie's advice to mothers that may be concerned about this happened is this:
"If you become pregnant again after a Cesarean birth and have a vaginal delivery, the risk of rupture is higher, averaging about 16 per 1,000 (5.4 to 28.4 per 1,000). This risk will increase if you have subsequent C-sections, as the more scar tissue you have on your uterus the higher the risk of rupture. Rupture following pregnancy in the postpartum period is on average about 13 per 1,000 (4.3 to 26.2 per 1,000).
"Women are more at risk of this complication if they are overweight, smoke, take oral or intravenous steroids or have chronic diseases such as diabetes, kidney disease and conditions that affect their immune system. Coughing, straining with bowel movements, heavy lifting and vomiting make things worse and can cause a rupture."
A version of this article originally appeared onwww.channelmum.com